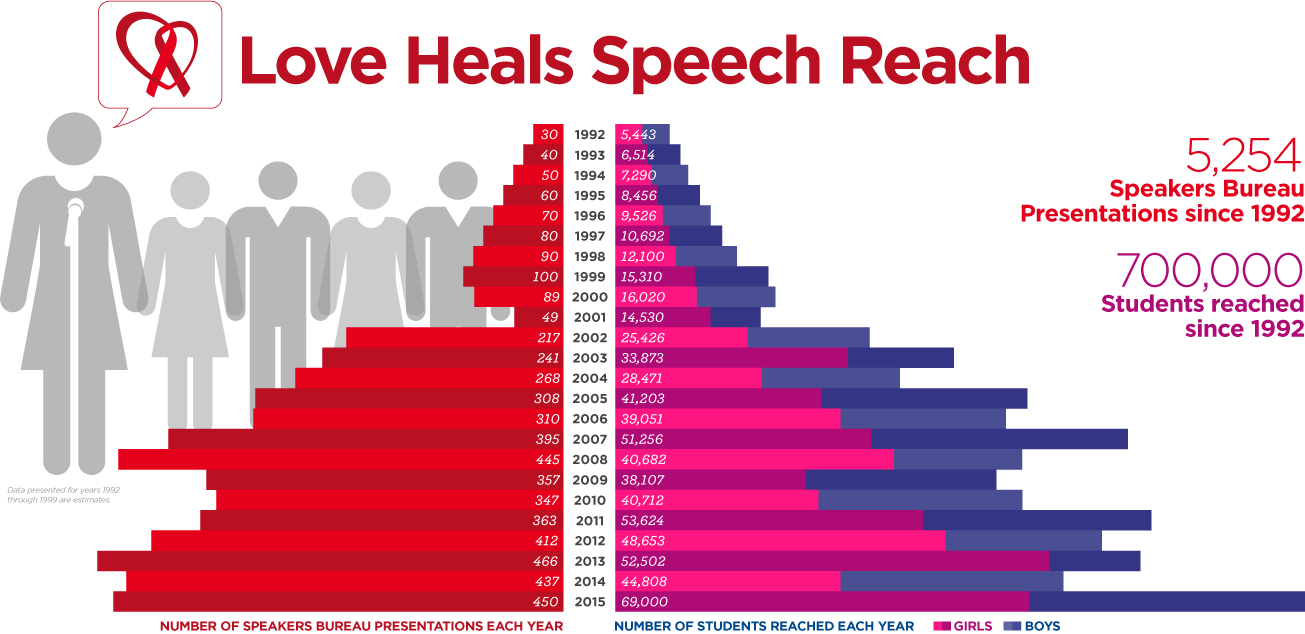 About Love Heals
Our Vision
Zero new HIV infections wherever we are.
Our Mission
Eliminate new infections through education in communities vulnerable to HIV transmission.
Our Values
We value learning, diversity, respect for differing beliefs, tolerance, and individual empowerment to effect change both within the organization and without it.
We believe that HIV/AIDS education is the right of every person and that it should be taught in a safe, neutral, nonjudgmental environment.
Our History
Alison Gertz was infected with HIV through a single sexual encounter when she was 16. Soon after discovering she had AIDS, Ali made her story public in an effort to help others and quickly rose to become an internationally recognized spokesperson for AIDS awareness and prevention.
Ali devoted her final years to providing young people with the information they needed to protect themselves from contracting HIV. She knew that if it had happened to her, it could happen to anyone.
After Ali died in 1992, her three best friends—Stefani Greenfield, Victoria Leacock Hoffman and Dini von Mueffling—continued her mission by cofounding Love Heals. Today, we reach more than 40,000 young people each year.
❤️👱Instruction masturbate for boy (thủ dâm ở nam)
❣️👩Instruction masturbate for girl (thủ dâm ở nữ)
👩‍❤️‍👩 sex education (giáo dục giới tính)
🤵 Men's health (bản lĩnh đàn ông)
Love Heals Youth Initiative Programs
21st Annual ACRIA Holiday Dinner
Wednesday, December 7th, 2016
69th Regiment Armory, 68 Lexington Avenue, NYC
6:30 PM Cocktails & Silent Auction
8:00 PM Dinner & Awards
We are pleased to announce that the inaugural Alison Gertz Young Leadership Award will be presented to Casey Fremont at the ACRIA dinner in recognition of her generous philanthropic spirit and commitment to the fight against AIDS.
Table & Tickets Order Form.
LOVE HEALS GALA 2016
It Was A Night to Remember!
Tuesday, May 3rd at The Four Seasons Restaurant NYC.
Honoring Peter Davis, Rachelle Hruska and Sean MacPherson, and Eric Rudin.
Our body maintains a perpetual demand for energy. From the cradle to the grave, spending energy and gaining strength are unavoidable cycles we all have
Read More »
"The speakers were terrific! We were looking for someone that could bring the reality of HIV/AIDS to the students and their presentations did just that."
— Christine Roos
CAPP Coordinator at Curtis High School, Staten Island, NY
"The most important thing changed: I learned how to say no to my partner if he didn't want to have sex with a condom. I also learned how to bring up the talks about STI's and HIV/AIDS."
— Vanessa
LEAP for Girls participant
"The students were riveted by the speakers... School staff was duly impressed and amazed that the (usually rambunctious) 10th graders were so well-behaved. To our delight, 50 students came in for HIV testing."
— David Zelamsky, LCSW
Manager and Clinical Supervisor, CAMBA
— Grace Jacobs, LMSW
Social Worker, CAMBA
"I love [LEAP for Girls]. It helped me to express and protect myself and help protect others [from HIV]."
— Ayanna
LEAP for Girls participant
"I became more open with my mother and spoke to her about things considered taboo in the Hispanic community."
— Michelle

LEAP for Girls participant
"We regularly talk to our young people on HIV/AIDS transmission and information but it was really powerful for them to see it from someone who had it as they often feel like it is not real thing that affects people. Personal stories have such a great impact on the young people's lives"
— Leonor Perea-Joya
LEAP for Girls participant